Corporate Overview
Management Team
Directors
Scientific Advisory Committee
Scientific Advisory Board : Pharmaceutical Cannabinoïds
Corporate Overview – Structured for success
Devonian is a Canadian, publicly-traded (TSXv:GSD), late stage botanical pharmaceutical corporation with novel therapeutic approaches targeting worldwide unmet medical needs. Devonian's core strategy is to develop prescription botanical drugs which could be from plant materials, algae, macroscopic fungi, and combinations thereof. This strategy is supported by FDA set of regulatory guidelines, favouring a more efficient drug development pathway for prescription botanical drug products.
Botanical Drug: Source of new products for the pharmaceutical industry
➢ Faster and Less Costly Drug Development from Pre-Clinical to Proof-of-Concept study (Phase 2);
➢ Superior Risk Management;
➢ Botanical drugs are cleared for specific indications just like a regular drug;
➢ Botanical drugs are coded and accessible for medication reimbursement plans;
➢ Marketing exclusivity for up to 5 years even in the absence of patent protection;
➢ ''Copy-cat'' proof.
cGMP extraction facility in Canada
➢ 1,625 square meters facility
➢ Full scale facility with custom designed equipment
➢ Pharmaceutical-grade production facility meeting Cleanroom Standards
➢ Scalable extraction platform
➢ Expect to seek good manufacturing practice (cGMP) validation prior to Ph. 3 clinical trials
Several products at commercial level within the next year
Commercial operations generating revenues
➢On Feb 1st, 2018, Devonian acquired Altius Healthcare inc, a specialty pharmaceutical company with a primary focus of acquiring and in-licensing safe and innovative medicines and healthcare products (altiushealthcare.ca).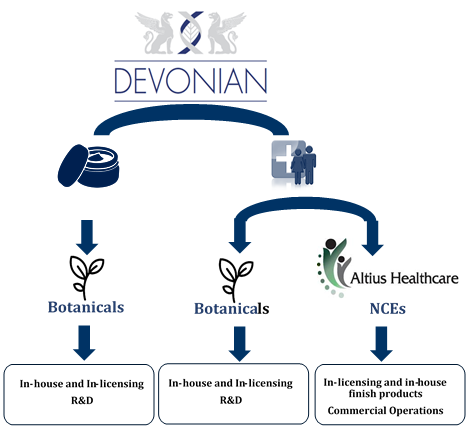 Management Team
André P. Boulet, Ph.D.
President & Chief Executive Officer
Dr André Boulet has a vast experience in drug development, regulatory affairs, market access, financing and restructuration in the pharmaceutical and biotech fields. A seasoned entrepreneur, he stands out by combining his strengths in applied science, business and finance.
Since 2005, he has been leading the development of the technology and products own by Devonian Health Group. He raised more than $40M in private/public equity, completed phase 1 and phase 2 ulcerative colitis clinical program for the company`s flagship product Thykaminetm as well as a complete line of patent-pemding anti-aging products for women.
Prior to this endeavour, he was a managing partner of SIPAR's biotech unit, a $400M private investment firm. Prior to SIPAR, Dr Boulet was partner at BioCapital III LP (« BioCapital ») (1996-2002), a Canadian biotech venture capital company. At BioCapital, he was responsible for investment strategy, deal development, analysis, valuation and negotiation of selected investments. BioCapital had substantial success during his association with the fund: from 1997 to 2001 (when the fund was wound up), the fund generated a 19.75% IRR (net) to each unitholder.
Throughout his career, Dr Boulet acquired an international expertise in drug development, regulatory affairs and health economics within Hoechst Marion Roussel, Marion Merrell Dow Canada and Laboratoires Nordic ( Sanofi-Aventis).
Dr Boulet is Editor in Chief of the Journal of Dairy, Veterinary & Animal Research. He is also a member of the Editorial Boards of Biomedical Journal of Scientific and Technical Research and of MOJ Autoimmune Disease.
Dr Boulet holds a Bachelor's Degree in Medical Biology from University of Quebec in Trois-Rivieres, a Master's Degree in experimental medicine/immunology-immunochemistry as well as a PhD in physiology-endocrinology from Laval University in Quebec City. He also did a post-doctorate training at University of Pennsylvania (USA) in biochemistry-biophysics and a training program in Health Economics at York University (UK).
Colette Laurin, CPA, CA
Interim Chief Financial Officer
Prior to joining Devonian in 2015, Ms. Laurin was a corporate and corporate finance consultant and, for over 16 years, acquired experience in a wide range of banking sectors. She has held a number of positions at the National Bank of Canada, including Business Credit Manager, Business Center Director, and has managed to integrate and support the administrative tasks of nearly 35 bank branches, management responsibility of more than 120 employees. She has also held the position of Director of Development of the Inspection Department and Internal Audit. Prior to this, she held the position of auditor at Raymond, Chabot Martin Paré (now Raymond Chabot Grant Thornton).
Mostafa Akbarieh, PhD
Vice-President, Regulatory Affairs
Dr. Akbarieh holds two Doctorate Degrees, the first in Parasitology and Pathology from the University of Montpellier, France and the second in Cell and Molecular Biology from the University of Montreal, with post-doctoral fellowship in physical chemistry at the Faculty of Pharmacy, University of Montreal where he stayed as full time researcher for 10 years. During that time he had lectured a wide range of courses including biochemistry, pharmacology and pharmaceutical technology at graduate and under graduate levels.
Dr. Akbarieh has been actively engaged in the healthcare industry for twenty-four years. He held positions of increasing managerial responsibility within the research and development teams at companies such as ICN Pharmaceuticals Inc., Ratiopharm Inc, Pangeo Pharma Inc., Genpharm Inc, Triton Pharma Canada Inc, and Aspri Pharma Canada Inc.
He has published over 40 scientific papers in peer reviewed international journals and several patents on novel pharmaceutical formulations.
Nathalie Boucher, Ph.D.
Director, Research and Intellectual Property
Nathalie Boucher holds a bachelor's degree in biochemistry, a master's degree in biophysics, and a Ph.D. in environmental science (with a specialization in toxicology). She has many years of experience in both private and university research centers and stands out for her expertise in plant physiology, plant cell extraction, and enzyme stabilization. She has also contributed to the writing of numerous patents and scientific articles.
Directors
Dr André P. Boulet, Ph.D.
President & Chief Executive Officer
Jacques Bernier, B.Pharm, MBA – Director
Jacques Bernier has been part of FOLIA BIOTECH team from its inception and acted as its CEO from 2008 to 2014 after several successful years in the business world. He was responsible for establishing FOLIA's Business Plan with a new vision. He raised more than $11.0 M in funding. Under his leadership, the company successfully completed the preclinical program and the first clinical trial in human (Phase I) of its lead product FB-631. In addition, the company has developed research collaborations with many companies or organizations. Since 2014 he is member of the Board of FOLIA as a Director and Chair of the finance and audit committee.
Before joining FOLIA BIOTECH, he was President and CEO of Gescopharm Inc a company involved in the operation of retail pharmacy. During these years, he gained extensive experience in management and business development and an excellent knowledge of the pharmaceutical industry. He was a member of the Board of Familiprix a group of nearly 300 pharmacies. First, as member of the marketing committee for advertising, marketing and sales strategy and then Vice President of the Board and Vice President of the Finance committee where he was responsible for budget and financial statements of the company.
He holds a Bachelor's Degree in pharmacy from Université Laval, Quebec City (1984). In 2007, he completed his MBA with a concentration in pharmaceutical management at Université Laval. Within this program, he gained a distinctive competence of managing organizations in the pharmaceutical field, as the biotechnology sector. In 2008, he completed a graduated program in pharmaceutical product development. This training allowed him to get familiar with each steps of the clinical process, from pre-clinical testing to phase IV clinical studies.
He is a member of the Board and Treasurer of Montmagny Hospital Foundation. He is a member of committees for several charitable activities.
Borys Chabursky – Director
Mr. Borys Chabursky specializes in strategic planning, fundraising, financial management and business development for biotechnology, medical device, imaging and oncology companies and science and technology incubators in both the public and private sector. As the founder and Chairman of Shift Health, he has overseen the successful completion of over 500 life sciences assignments for more than 300 clients in North America, Europe and the Middle East; the development of compelling business cases and implementation plans that have helped leverage over $1B in financing from private and public sector resources; and the creation and facilitation of more than 50 public-private partnerships in biomedical research, infrastructure development and global health. Mr. Chabursky has worked closely with industry thought leaders, large pharmaceutical companies, government agencies, hospital boards and healthcare networks. He has also provided interim management for seven start-up companies and angel financing for ten new start-up ventures. With his experience spearheading large-scale, multi-stakeholder, global initiatives, Mr. Chabursky often serves as an advisor to influencers and developers of government policy.
Sybil Dahan – Director

Biochemist by education, Mrs. Sybil Dahan began her career in the pharmaceutical industry in 1989. She held many positions in Sales and Marketing in Canada. She spent most of her career with Abbott Laboratories (now AbbVie) which lead her to work in the USA and Latin America, and then in Sweden as General Manager and Chairman of the Board of Abbott Scandinavia. Mrs. Dahan became one of the first foreign General Managers in Sweden to become an elected Board member of the Swedish Pharmaceutical Trade Association (LIF). She returned to Canada in 2008, but soon thereafter leaves Big Pharma to explore the world of small to medium size businesses. She joined Triton Pharma Inc. as President, and following the sale of Triton Pharma Inc. to Paladin Labs Inc. in December 2013, Mrs. Dahan embarks on the third phase of her career's journey – entrepreneurship – to become co-owner of Aspri Pharma Canada Inc. and more recently Altius Healthcare; importer and distributor of pharmaceutical products managing over thirty million dollars of annual sales.  Mrs. Dahan is recognized by her peers as being a visionary and energetic senior level leader who effectively manages all aspects of commercial operations.
Louis Flamand, PhD, MBA – Director
Louis Flamand, PhD, MBA, is a full professor and vice-chair of the department of microbiology-infectious-disease-immunology at the Faculty of medicine, Université Laval and senior researcher in the division of infectious and immune diseases at the CHU de Quebec research center. Before joining Laval university, Dr Flamand obtained his PhD at the University of Montreal and post-doctoral training that the National Institutes of Health and at the Institute of Human Virology (Maryland, USA). He received his MBA in pharmaceutical management from Université Laval.  Since 2008, he is President of the biohazards risk committee at Université Laval.  He is also member of the HHV-6 Foundation scientific advisory board since 2006. Dr Flamand has experience in pre-clinical development. Throughout his career, Dr Flamand has received several competitive scholarship awards and continuous funding support from several funding agencies for his work in virology. Dr Flamand is the author of more than 80 peer-reviewed publications and is lead Editor of the book "Human Herpesviruses HHV-6A, HHV-6B & HHV-7: Diagnosis and Clinical Management" 3rd edition.

Tarique Sayed –  Director/secretary
Mr. Tarique Saiyed has over 21 years of demonstrated experience leading strategic vision to corporate giants across diverse geographies of Europe, Russia, Commonwealth, Middle East and North Africa. From March 2009 to June 2014, Mr. Saiyed worked for Aspen Healthcare FZ LLC in Dubai, United Arab Emirates, as Chief Financial Officer. From July 2014 to July 2017, he managed regional trading hubs for Europe, Middle East and North Africa region as Managing Director for Aspen Pharma Ireland Ltd. in Dublin. Mr. Saiyed then worked from January 2018 to June 2018 as Chief Operating Officer for IXD Consulting Dublin in Ireland and from June to October 2018 as Consultant for Sunark Pharma in Estonia.
Mr. Saiyed is a Charted Accountant from the Institute of Chartered Accountants of India since 1996 and holds a bachelor's in commerce with a major in accounting and finance from the University of Allahabad, India since 1992.
Scientific Advisory Committee
Devonian is currently recruiting experts throughout the world to provide guidance and assistance for its botanical prescription drug development activities. These advisers will use their extensive experience in toxicology and preclinical and clinical development to help guide Devonian's management team and ensure that its development activities are conducted according to state-of-the-art standards and meet all regulatory requirements. As part of this research, Dr. Jean-Claude Tardif, MD has accepted the position of Chairman of the Scientific Advisory Committee of the Company.
Dr Jean-Claude Tardif, MD, FRCPC, FACC, FCAHS
Chairman of Scientific Advisory Board
Jean-Claude Tardif is the Director of the Research Centre at the Montreal Heart Institute and Professor of Medicine at the University of Montreal. Dr. Tardif graduated from the University of Montreal with his medical degree in 1987 and completed his training in cardiology and research in Montreal and Boston in 1994. Dr. Tardif holds the Canada Research Chair in translational and personalized medicine and the University of Montreal endowed research chair in atherosclerosis. He is the Scientific Director of the Montreal Health Innovations Coordinating Centre (MHICC) and Chairman of the steering committees of the CIHR-funded Canadian Atherosclerosis Imaging Network (CAIN) and Medical Imaging Trials Network of Canada (MITNEC).
Dr. Tardif has authored and co-authored more than 800 articles and abstracts in peer-reviewed publications, including the New England Journal of Medicine, the Journal of the American Medical Association, The Lancet, Circulation, the Journal of the American College of Cardiology, the European Heart Journal, Nature Genetics, Genes and Development, the British Journal of Pharmacology, and Cardiovascular Research. In addition, he has written more than 30 book chapters (including in Braunwald's Textbook of Heart Disease) and has edited several books. He has given approximately 400 invited lectures around the world.
His research covers the molecular and genomic aspects of atherosclerosis and related diseases and also involves pre-clinical models, mechanistic and observational clinical studies as well as large international randomized clinical trials. Dr. Tardif is or has been the international principal investigator or part of the study leadership of several large clinical trials in the field of atherosclerosis and other cardiovascular diseases.
Dr. Tardif and his team have created the Beaulieu-Saucier Pharmacogenomics Center at the Montreal Heart Institute and he has created the Center of Excellence in Personalized Medicine (CEPMed), the latter funded by the Network of Centers of Excellence (NCE) of Canada and which is also supported by multiple pharmaceutical and biotechnological companies. He is one of the founding fathers of the International Partnership for Critical Markers of Disease (CMOD) organization, which focuses on the development and better use of biomarkers (www.cmod.org).
Dr. Tardif has won multiple awards during his career, including the Research Achievement Award of the Canadian Cardiovascular Society, the Genesis Award of BIOQuebec (for his outstanding contributions to life sciences) and the Armand-Frappier Award of the Government of Quebec (the highest scientific distinction in Quebec). He was also named scientific personality of the year by La Presse newspaper. Because of his accomplishments, Dr. Tardif was named Fellow of the Canadian Academy of Health Sciences (FCAHS) and was recently inducted into the Order of Canada.
Scientific Advisory Board on Pharmaceutical Cannabinoîds
Dr Louis Flamand, PhD, MBA
Louis Flamand, PhD, MBA, is a full professor and chair of the department of microbiology-infectious-disease-immunology at the Faculty of medicine, Université Laval and senior researcher in the division of infectious and immune diseases at the CHU de Quebec research center-Université Laval. Before joining Laval university, Dr Flamand obtained his PhD in virology from the University of Montreal and post-doctoral training that the National Institutes of Health and at the Institute of Human Virology (Maryland, USA). He received his MBA in pharmaceutical management from Université Laval.  He is also member of the HHV-6 Foundation scientific advisory board since 2006. Dr Flamand has experience in pre-clinical development. Throughout his career, Dr Flamand has received several competitive scholarship awards and continuous funding support from several funding agencies for his work in virology. Dr Flamand is the author of more than 90 peer-reviewed publications and is lead Editor of the book "Human Herpesviruses HHV-6A, HHV-6B & HHV-7: Diagnosis and Clinical Management" 3rd edition.
Dr Suha Jabaji, Ph.D.
Dr Suha Jabaji, PhD. is a molecular plant pathologist. She obtained her PhD from the University of Waterloo, Ontario, Canada. At the rank of full Professor in Plant Science, McGill University, her scientific contributions are recognized at the national and international levels. She has published 90 plus-refereed scientific reports and delivered more than 200 scientific presentations at scientific conferences. The creativity, relevance, and significance of her research results impacting sustainable agriculture is recognized by invitations to speak in symposia and conference presentations at scientific meetings, and serving on national and international editorial boards and grant panels. Her research expertise focuses on functional genomics and metabolomics of plant fungal pathogens and beneficial microbes that boost the plant's immune system against biotic and abiotic stress has attracted International researchers to spend time in her lab for training. Her research program is funded by provincial, federal grants as well as industrial collaborative grants and contracts. She has mentored more than 100  graduate and postgraduate students in the field of Plant-microbe interactions. Among her current research themes is the development of effective antimicrobials for the hemp and Cannabis industries, and understanding their mode of action in order to increase their efficiencies. Between 2005-2015, she was appointed as the Associate Dean of Research and Graduate Education of the Faculty of Agricultural and Environmental Sciences (FAES), McGill where she oversaw the research activities of more than 90 staff at FAES. She currently serves as Past-President of the International Rhizoctonia Subject Matter Committee whose mandate is to coordinate international effort towards effective communication among scientists working on the economic soilborne fungal pathogen Rhizoctonia and promote exchange of resources and ideas among scientists.
Prof François Malouin, PhD
François Malouin is professor (microbiology) at the Department of biology at the Faculty of sciences of Universite de Sherbrooke since 2000.  He is a microbiologist that has more than 30 years of academic and industrial experience in drug discovery for use in humans and food-producing animals.  He was recently appointed to the Comité d'experts scientifiques sur la résistance aux antibiotiques de l'Institut national de santé publique du Québec (2011-2015), a committee that is providing recommendations to the provincial government on the matter of antibiotic resistance.  Currently, he is a member of the scientific committee for the Canadian Bovine Mastitis and Milk Quality Research Network (2015-2019) and member of the executive committee of the strategic FRQNT research network for optimal milk quality (Op+Lait) in Quebec.  He is also the external member of the scientific committee of the Laboratoire International Associé en Bioproduction d'Antimicrobiens Naturels (LIAAN).  LIAAN is a joint research effort between INAF (Université Laval, Québec) and the Laboratoire régional de recherche en agroalimentaires et biotechnologie of Institut Charles Viollette (Université de Lille, France). Prof Malouin was a member and president of the institutional patent committee at Université de Sherbrooke from 2009 to 2017.
Prof Malouin obtained a doctoral degree (Ph.D.) in Medical Sciences (Medical Microbiology) at the University of Calgary (1988) and did postdoctoral training in the anti-infective research group at Lilly Research Laboratories (Eli Lilly & Co., Indianapolis, USA) from 1988 to 1990.  Prof Malouin was also Assistant professor of microbiology at the Faculty of medicine of Université Laval in Quebec City where he had a Fellowship from the Medical Research Council of Canada (1990-1994). He was then recruited by biotechnology companies, first Microcide Pharmaceuticals, Inc., then a sister company, Iconix Pharmaceuticals, Inc. (Silicon Valley, California, USA) from 1994 to 2000, where he was Associate Director of technology development for the discovery of new therapeutic targets and antibiotics. He was also a co-founder of Ulysses Pharmaceuticals (Sherbrooke, QC).
Currently at Université de Sherbrooke, his research projects aim at exploiting virulence genes for the development of new antibiotics, vaccines and non-antibiotic alternatives for applications in human and animal health. He is co-author of >100 scientific publications and co-inventor of more than 20 patents (delivered or pending).
Dr John Trant, PhD
Dr. John Trant received his PhD from the University of Ottawa in 2012 in making antifreeze glycopeptides under the supervision of Dr. Robert Ben. After postdoctoral work with Dr. Tomas Hudlicky (natural product synthesis, Brock) and Dr. Elizabeth Gillies (polymer and nanoscience, Western) he began his own group at the University of Windsor in 2016. The Trant group is focused on bringing the tools of synthetic chemistry to bare on unsolved problems in biomedicine and materials science. The group has active research in molecular and microbiology, natural product and peptide synthesis, and computational chemistry and biochemistry. The group conducts interdisciplinary research with collaborators from around Canada and the World in drug development, analytical chemistry, computational chemistry as well as leading research programs in undergraduate research pedagogy, and laboratory safety. The group has attracted over $2 million in research and infrastructure funds in the first three years of the lab, and currently comprises seven post-doctoral fellows, five graduate students and thirty-one undergraduate researchers.