Therapeutics
Purgenesis Cosmeceuticals
Therapeutics
ThykamineTM
ThykamineTM is an active lead drug candidate with excellent safety and efficacy profiles confirmed in several pre-clinical and cinical studies targeting inflammation.
In Phase 2a, the Corporation conducted a clinical trial: a 2-week, exploratory randomized, double-blind, parallel-group, dose-ranging, placebo-controlled safety, tolerability, biomarker and efficacy clinical study of ThykamineTM   rectal enema in patients with active mild-to-moderate distal ulcerative colitis.
The primary objective of the study was met. Administration of 250 mg, 500 mg and 1000 mg doses of ThykamineTM  rectal enema once daily was safe and well tolerated in subjects with active mild-to-moderate distal ulcerative colitis. There was a statistically significant (p<0.05) reduction in the mean change from baseline in the rectal bleeding sub-score of the modified Mayo score, a cardinal symptom/sign of ulcerative colitis, for the ThykamineTM – 250 mg dose compared to placebo at Endpoint/Day 14.
Among the biomarkers, there was a statistically significant reductions in the fecal lactoferrin (FL) levels, a biomarker with high specificity and sensitivity to detect intestinal inflammation, in serum Transforming Growth Factor-beta (TGF-b) and serum M-30 apoptosome.
The objective evidence of activity as per the biomarkers' reductions and the clinical assessment's results of the clinical study together have demonstrated the biological activity of Thykamine™ rectal enema in patients with active mild-to-moderate distal ulcerative colitis within a very short treatment duration.
Indications currently being pursued with ThykamineTM
ATOPIC DERMATITIS
Atopic Dermatitis (Eczema) is a chronic, relapsing inflammatory skin disease characterized by itchy skin lesions and rashes. Although this condition affects people of all ages, it is most common among infants and children. In general, the prevalence of atopic dermatitis is increasing worldwide and is higher in developed nations than in other parts of the world.
Prevalence: Atopic Dermatitis affects 15 to 30% of children and 2 to 10% of adults worldwide. It is associated with co-occuring disorders such as asthma, rhinitis, food allergies and bacterial infections. Quality of Life of the patient and family can be impaired. It is estimated that Atopic Dermatitis affects  9 to 30 percent of people in United States.
Development Stage: Devonian has completed a phase 2 clinical trial in mild-to-moderate atopic dermatitis using Thykamine™ in a hydrogel formulation. The Phase 2 trial was a double‐blind, randomized, placebo‐controlled trial designed to evaluate the efficacy and safety of Thykamine™ cream monotherapy (0.05%, 0.1% and 0.25%) compared to placebo in skin clearance as assessed by the Investigator Global Assessment (IGA) in adult patients with mild-to-moderate atopic dermatitis. Efficacy and safety were assessed every week over a four-week dosing treatment (twice-a-day). A total of 162 patients, spread over several sites in Canada, were recruited for this study.
Compared to placebo, Thykamine™ at 0.1% demonstrated significant improvement of the primary endpoint, i.e. skin clearance (IGA) at all measured timelines (week 1: p = 0.006; week 2: p < 0.001; week 3: p < 0.001; Week 4: p=0.002) resulting in demonstrating a fast onset of the therapeutic effect.
IGA success rates at week 4 were 6.7% for placebo (vehicle cream), 19.0% for Thykamine™ cream 0.05% (p=0.053 vs placebo), 30.8% Thykamine™ cream 0.10% (p=0.014 vs placebo) and 12.1% for Thykamine™ cream 0.25% (p=0.461 vs placebo). Success rate over placebo of Thykamine™ cream 0.1% was not only reached at week 4 but also at week 3 (p = 0.04), resulting in a fast onset of the therapeutic effect. As such, Thykamine™ cream 0.10% has been retained for Phase 3 trials.
In addition, Thykamine™ achieved statistically significant differences, compared to placebo, in its key secondary efficacy endpoints, i.e. BSA, pruritis, POEM and Quality of Life measurement.
Thykamine™ was shown to be safe and well tolerated during the study.
ULCERATIVE COLITIS
Ulcerative colitis (UC) is a chronic relapsing form of inflammatory bowel disease that causes inflammation and ulcers in the colon. Symptoms can range from mild to severe with disease onset usually occurring in young adults. Intermittent rectal bleeding, crampy abdominal pain and diarrhea often are symptoms of ulcerative colitis. Its course is unpredictable but with a strong likelihood of life-long disease. It can be debilitating and sometimes can lead to life-threatening complications.
Prevalence: The disease is more common in northern regions of the world. Approximately 238 of 100,000 adults are affected  by ulcerative colitis. It is estimated that up to 2 million people are affected in United States.
Development Stage: Devonian has plans for a larger Phase 2b clinical trial and of longer treatment duration: a 12‑week, randomized, double‑blind, parallel-group, dose-ranging, placebo-controlled efficacy, safety and tolerability study of ThykamineTM rectal enema to treat patients with active mild-to-moderate distal ulcerative colitis. Devonian intends to request a meeting with the FDA by the end of 2017. The meeting will allow Devonian to submit to the FDA the results of the in vitro and in vivo pharmacology studies, the safety pharmacology and toxicology studies, and the results of the Phase 1 and 2a clinical studies along with the clinical trial protocol of the planned Phase 2b study. Management believes that the safety and efficacy profile of ThykamineTM demonstrated in all the former studies should provide justification for the FDA to allow Devonian to proceed with the Phase 2b clinical trial without any safety issues.
RADIODERMATITIS
Radiodermatitis (radiation dermatitis) is a significant side effect of ionizing radiation delivered to the skin during cancer treatment as well as a result of nuclear attacks and disasters. Radiodermatitis have been classified into three levels; grade 1 (mild erythema), grade 2 (dry desquamation), and grade 3 (severe moist desquamation).
Prevalence: International data indicate that 50% of patients diagnosed with cancer will receive some form of radiation therapy. Radiodermatitis concerns around 95% of all cancer patients receiving radiation therapy. It is particularly problematic in cancers of the breast, perineum, and head and neck region. These radiation skin reactions result in a myriad of complications, including delays or interruption in treatment, diminished aesthetic appeal, and reduced quality of life.
Development Stage: Devonian is currently developing a specific formulation which would include Thykamine™ as the main active ingredient. As the formulation would offer protection against radiation effects, the company expect to file under the medical device regulation in 2019.
INFLAMMATORY ACNE
Acne, as a family of skin disorders is one of the most prevalent dermatologic diseases in the world. It is a cutaneous pleomorphic disorder of the pilosebaceous unit involving abnormalities in sebum production and is characterized by both inflammatory and noninflammatory lesions. It affects the areas of the body that have high concentrations of sebaceous gland such as the face, back and trunk.
Prevalence: Acne is one of the most common skin conditions which affect about 85 % of adolescents and over 10% of adults population at some point of time in life.
Development Stage: Devonian is currently developing a specific formulation which would include Thykamine™ as the main active ingredient. The formulation should be completed by Q4-2018. A phase 2 clinical trial is expected to be initiated in 2019.
PurgenesisTM Cosmeceuticals
Cosmeceuticals have become the fastest-growing segment of the cosmetics and personal care industry.
There are three different categories of skin care products:
– "pharma-quality" dermatologist/physician formula brands;
– prestige products; and
– mass-market products.
A trend is that the cosmeceutical products with the best potential will be those that are backed by science.
All of Devonian's skin-care products are developed by the same approach as its pharmaceutical products, with strong safety and efficacy data, which positions these products as science-based.
The first derma-cosmeceutical products that Devonian has developed are women's anti-aging product line consisting of day, night, and eye creams. R-Spinasome™, Devonian's proprietary natural active ingredient is included is these market-ready, patent-pending, products.
PURGENESISTM ANTI-AGING
In a 28-day comparison study, the product demonstrated superior anti-aging treatment effects compared with two highly regarded anti-aging prestige brands.
In a consumer panel study, more that 75% of women reported that they would switch to Devonian's product.
A randomized, double-blind, placebo-controlled study evaluating its anti-redness properties will be conducted in Q1, 2019. Results will be released later during 2019.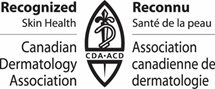 The PurgenesisTM treatment now carries the seal of recognition of the Skin Health Program, awarded after a thorough review of the treatment formulation by the Canadian Association of Dermatology's Expert Advisory Council on Skin Health.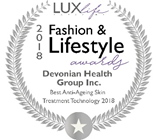 Purgenesis™ anti-aging treatment was awarded the 2018 Best Anti-Aging Skin Treatment Technology from United Kingdom-based LUX Life Magazine (LUX) confirming the product' level of excellence.
This product is protected by patents in Canada, Europe, Japan and United-States.
PURGENESISTM SUNCARE PRODUCTS
The human skin is the largest organ of the human body. It provides biological active barrier against environmental influences, and its proper functioning is essential to keeping the body healthy.
Sunlight, which reaches and penetrates our skin daily, influences the physiology of the human skin in beneficial as well as harmful ways. It is subdivided into different spectral regions: ultraviolet ( UVA/UVB) infrared (Infrared A, B and C) as well as visible light (which include blue emission).
The harmful effects of UVA and UVB has been extensively demonstrated. Over the recent years, an increasing number of scientific publications have highlighted the harmful effects of Infrared A (IRA) and blue light on the skin. The current SPF sunscreens do not protect against IRA or blue light.
Devonian' objective is to bring to consumers a novel suncare product line that would provide protection against UVA/UVB, IRA and blue light for outdoor use. As blue light emission is also generated by consumer electronics using the LED technology, such as smartphone, computer, TVs and LED light, the company is also developing an indoor cream to protect the skin against its harmful effects during the daily use of theses electronic devices.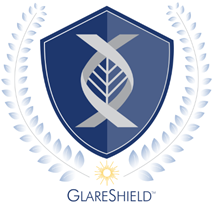 PURGENESISTM brand cosmeceuticals pipeline includes:
An indoor Blue light protection cream as well as a SPF/IRA/Blue light protection lotion for outdoor use. Both should be market ready in 2019. The pipeline also include an after sun lotion which is ready to market (to be marketed with sun protection product).
Devonian is at an early stage of development of a product for stretch marks.
The Purgenesis™ brand is exclusively marketed, in Canada, by Altius Healthcare www.altiushealthcare.ca) through Canadian certified dermatologists.
For more information, on Purgenesis™ products, please consult www.purgenesis.com